Customer needs
In this project, the client divided his home into three different parts and wanted to manage them separately. The client chose an off-grid PV system as he did not need to supply electricity to the grid.
30kW off grid solar energy system
After some key communication, we finally agreed to develop three 10kW off-grid PV systems for the client. The customer was offered a choice of gel battery and lithium battery options. The system generates 95kWh per day and has a battery storage capacity of 28.8kWh. It can drive up to 10kW of resistive loads and 3.3kW of inductive loads.
The following is a list of the products we supplied:
550W solar panel * 54pcs (size: 2274mm*1134mm*35mm)

10kW hybrid Inverter * 3pc (230/400VAC, 3L+N+Pe, sine wave)

9.6kWh lithium battery * 3pc (96V 100Ah) / 1.2kWh gel battery * 24 (12V 100Ah)

Controller box * 3 (3 input, 1 output)

Bracket for 54pcs solar panels (rooftop mounting system)
Circuit connection diagram
The diagram below shows the circuit connections for this project. As you can see from the diagram below, we have developed three identical systems for each of the three parts of the project. This way they can better manage the different areas separately. The changes in the diagram also provide good support for the installation.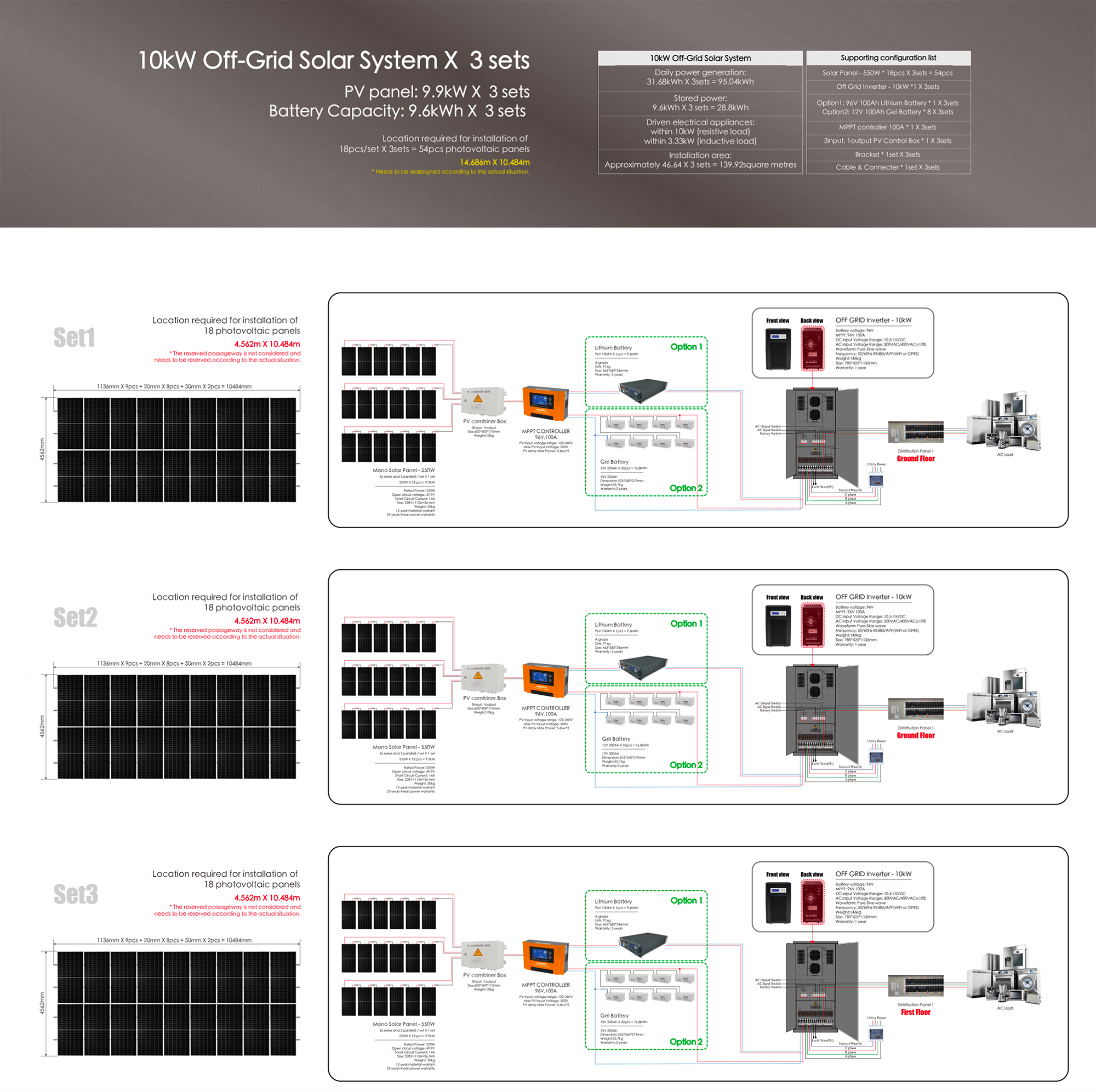 The diagram below shows the placement of the roof according to the dimensional drawing of the house provided by the customer. As you can see the solar panels are divided into 4 sections. This is because the roof is not very neat and we try to maximise the available area of the roof while maintaining aesthetics. The maximum efficiency is achieved.