Customer needs
This is a user from Jamaica. He has provided us with some important information.
" Hello, Please can send me an offer for a 25kW hybrid PV system, with 20kW lithium battery storage, 3 phase 230/400volt. Shipping and duty included, ***** "
25kW hybrid solar energy system
Based on the above requirements of the client, we have customised a hybrid PV system with a daily generation capacity of 78.72kWh and a battery storage capacity of 19.2kWh.
The following is a list of the products we supplied:
410W solar panel * 60pcs (size: 1940mm*1048mm*35mm)

12kW hybrid Inverter * 1pc (230/400VAC, 3L+N+Pe, sine wave)

9.6kWh lithium battery * 2pc (48V 200Ah)

Bracket for 60pcs solar panels (rooftop mounting system)
Circuit connection diagram
This circuit connection diagram below shows in detail how the connections are made in different positions and will solve most of the problems during installation. If there are any other questions or problems that need to be solved you can contact our after sales team to solve them for you.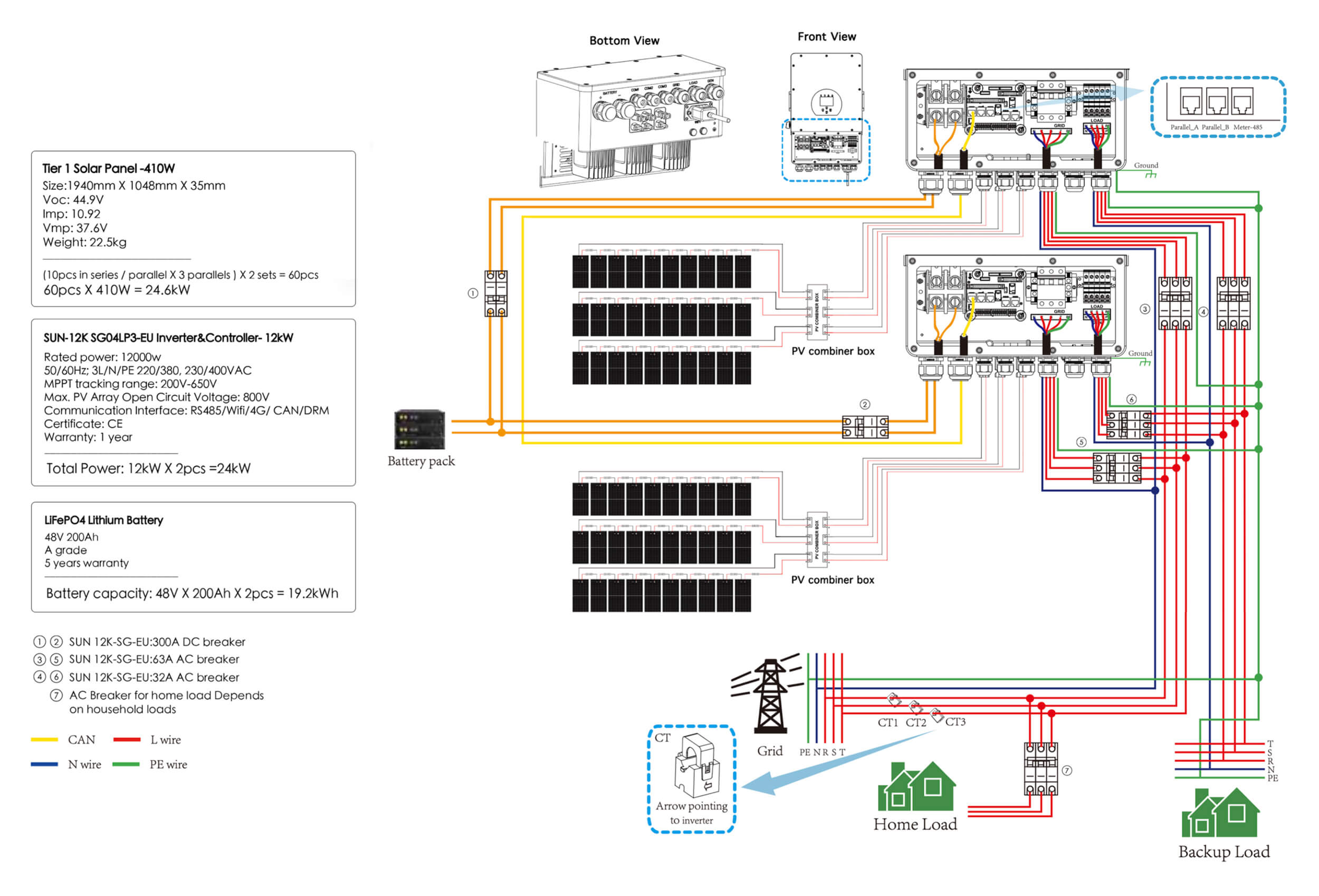 This system requires a total of 60 photovoltaic panels to be placed. Once we have the customer's roof and the corresponding dimensions, we can first calculate that the customer's roof is perfectly adequate. We then needed to design the most reasonable solution. The following is the final layout we designed. The roof has been placed in a way that maximises the light conditions, makes use of the three sides of the roof and avoids obstacles and trees. The existing roof has been used to maximise the efficiency of the electricity generated.